Temp Pool Fence
Temporary Pool Fencing for Hire and Sale
Temporary Fencing Hire and Sale : "On Time, Every Time"
Contact us for a quote or Ph now on 0800 42 68 12 or visit our new Online Shop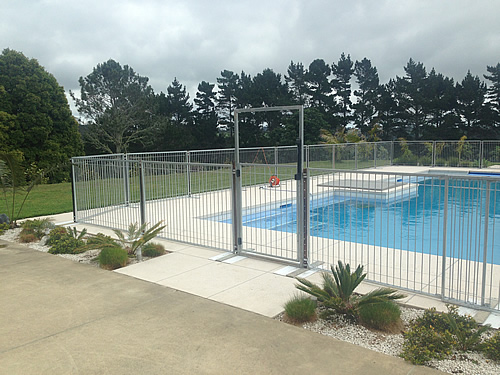 Temporary pool fencing is required during the construction of swimming pools or spa pools, or until a permanent pool fence has been installed. GHL Temp Fence is the preferred supplier of temporary pool fencing for hire and sale to several of the market leading pool companies, landscapers and pool fence installers.
We have several kilometres of temporary pool fencing available and we are the largest temporary fencing specialist supplying the Auckland area. Our temporary pool fencing is distinctively designed to prevent children from entering a pool or spa when filled with water. We also have available a self-closing pool gates for convenience so your swimming pool can be enjoyed safely. Our temporary pool fence conforms to the F9 Building Code - Restricting access to Residential Pools.
Keep your kids and the public safe by erecting a safety perimeter around your swimming pool. Ensure you are fully compliant with all the various regulations and building permits by erecting a temporary pool fence around your swimming pool during the construction or refurbishment of your swimming pool, spa pool or existing swimming pool fence.
Our swimming pool temp fence has been designed so it is simple to install and dismantle, whilst being very solid and secure. All panels and feet are fully hot dipped galvanised and on average exceed New Zealand standard minimum 77 microns. We sell what we hire.
We also provide Temporary Fencing solutions with our sturdy, durable, OSH / Worksafe compliant Temporary Fence to ensure a full Compliance work site with Systems for -
Residential Temporary Fencing, Commercial Temporary Fencing, Infrastructure & Civil Temporary Fencing, Event Fencing and Crowd Control.
Temporary Pool Fencing Hire Prices - up to 40 metres
| Up to | Fence Only | Self Closing Gate |
| --- | --- | --- |
| 4 Weeks | $440.00 + GST | $50.00 + GST |
| 8 Weeks | $560.00 + GST | $75.00 + GST |
| 12 Weeks | $640.00 + GST | $100.00 + GST |
| 24 Weeks | $920.00 + GST | $150.00 + GST |
Includes – Delivery / Install & Dismantle / Pick Up in Auckland


Rehire cost for each subsequent 4 weeks if required longer than initial term
| | | |
| --- | --- | --- |
| Rehire | $160.00 + GST | $40.00 + GST |
Temporary Pool Fencing for Sale
Temporary Pool Fence Panel 2m Long 1.25 High - Currently out of stock, New stk arrives Late Feb
$98.00 + GST
Pool Fence Feet
$24.00 + GST

Star Picket 1.25m - Used in conjunction with Feet

Star Picket 1.65m - Can be driven into the Ground

$14.00 + GST

$15.00 + GST
Please Note - On soft surfaces a foot isn't necessary and a 1.65m Star Picket can be driven in to the ground reducing the overall cost.
| | |
| --- | --- |
| Self-Closing Gate - Also need 2 x 1.65m Star Pickets & 2 x Feet for Installation | $340.00 + GST |
We are an NZ pool fencing hire business servicing from Mercer to Mangawhai including Auckland, Franklin, Counties, Waitakere, Hibiscus Coast, Eastern Suburbs Franklin, Manukau, East Auckland, West Auckland, Auckland CBD, North Shore, and Rodney District.
GHL TempFence also sells all the components individually, crowd control barriers, construction barriers, temporary fencing complete sets, semi-permanent fence, Y posts & orange mesh, shade cloth and scaffold net, printed cloth & banners, temp pool fence and dog run / pet enclosures
You'd prefer to hire? Find out more about our Temporary Fence Hire
Contact us for a quote or Ph now on 0800 42 68 12 or visit our new Online Shop