Crowd Control Barriers
Crowd Control Barriers for Sale from the Industry Leaders "GHLTempFence"
Available "NZ Wide" shipped from Distribution centres in Auckland and Christchurch


"GHL TempFence is your One Stop Temporary Fencing Shop & NZ's largest Temporary Fence Supplier"
Buy from the industry leaders with over 10 years experience in supplying temporary fencing and crowd control barriers for events. GHL TempFence crowd control barriers / bike rack are designed for long life and repeated use.
Contact us for a quote or phone now on 0800 42 68 12 or 0800TempFence (0800 836 733)

Our crowd control barriers are also available for hire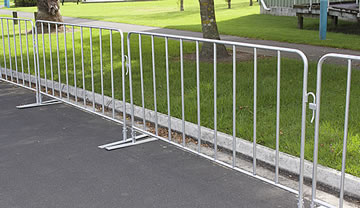 New Crowd Control Barriers / Bike Rack for Sale
New Shipment just landed Only $70.00 + GST each including feet (discounts available for 20 or more)
Each crowd control barrier is entirely hot dipped in a galvanized bath after manufacture and welding. They have specially designed flat feet, making the barriers extremely stable and much safer than claw foot barriers, which are prone to being a tripping hazard. They incorporate a specially designed locking system that is easy to use, quick and very secure.

Our crowd control barriers provide a quick and efficient barrier perfect for all situations where you need to divert or keep the public away from a designated area to ensure safety. The barriers are light and easy to handle, while being strong and robust at the same time. The flat feet are detachable which makes transportation and storage much easier and more efficient.

Crowd control barriers are ideally suited for use at sporting events, concerts, public gatherings, construction sites, product launches, promotional events and any on site where you need to divert or keep the public away from a specific hazard.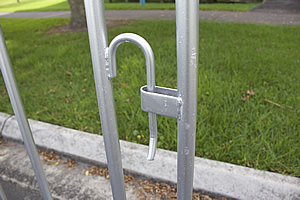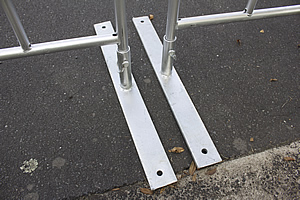 Crowd Control Specification
Panel Size: 2200mm(L) x 1100mm(H)
Frame: 25mm O.D.
Infill Pickets: 20mm O.D. 200mm spacing
Weight: 13kg's Panel Only / 18kg's Panel & 2 x Feet
Finish: Hot Dipped Galvanized
Feet: Flat Feet - removable
GHLTempFence also sells all the components individually, construction barriers and temporary fencing complete sets
You'd prefer to hire? Find out more about our Temporary Fence Hire

Contact us for a quote or phone now on 0800 42 68 12 or 0800TempFence 0800 836 733