Construction Barriers
Construction Barriers for Sale from Industry Leaders "GHLTempFence"
Available "NZ Wide" shipped from Distribution Centres in Auckland and Christchurch
"GHL TempFence is your One Stop Temporary Fencing Shop & NZ's largest Temporary Fence Supplier"
Buy your construction barriers from the industry leaders in temporary fencing with over 10 years experience in both hire and sales.
GHL TempFence construction barriers have been developed specifically for the infrastructure, civil and construction market.
Contact us for a quote or phone now on 0800 42 68 12 or 0800TempFence( 0800 836 733)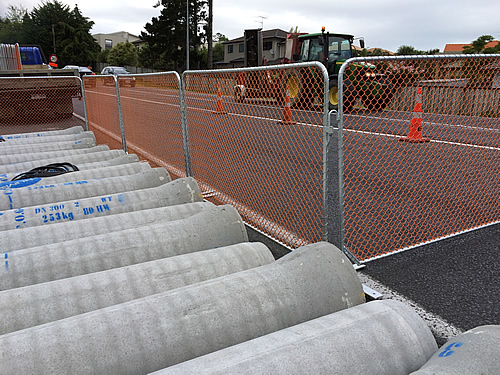 GHL TempFence Construction Barriers
Only $80.00 + GST Each including 2 x Feet (Discounts available for 20 or more)
GHL TempFence Construction Barriers are designed specifically for use where dimensions are critical to isolate a Hazard. They sit 1250mm High and are less than 100mm off the ground with have a highly visible orange 30mm x 30mm diamond mesh infill.

The frames are fully hot dipped galvanized after welding. They have specially designed flat feet, making the barriers extremely stable and much safer than claw foot barriers which are prone to being a tripping hazard. They incorporate a specially designed locking system that is both easy to use and very secure.
The barriers are light and easy to handle, while being strong and robust at the same time. The flat feet are detachable which makes transportation, storage and installation in some circumstances much easier and more efficient.
Construction Barriers are ideally suited for use for around civil, infrastructure and construction sites where you need to divert or keep employees, tradesman, contractors or the public away from a specific hazard.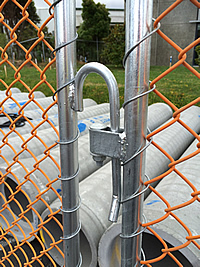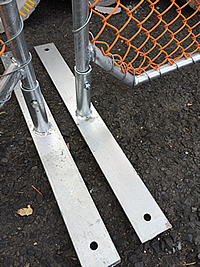 Construction Barrier Specification

Panel Size: 2200mm(L) x 1250mm(H)
Frame: 25mm O.D.
Infill: High Vis Orange 30mm x 30mm diamond mesh infill
Weight: 15 kg's Panel Only / 20kg's Panel & 2 x Feet
Frame Finish: Hot Dipped Galvanized
Feet: Flat Feet - removable
Highest UV Treatment in the Market "We supply the colour master to the manufacturer"
GHLTempFence also sells all the components individually, crowd control barriers and temporary fencing complete sets
You'd prefer to hire? Find out more about our Temporary Fence Hire

Contact us for a quote or phone now on 0800 42 68 12 or 0800TempFence 0800 836 733