Swimming Pools - OLD
Temporary Pool Fencing Hire with Self-Closing Gates

Temporary Fencing Hire : "On Time, Every Time"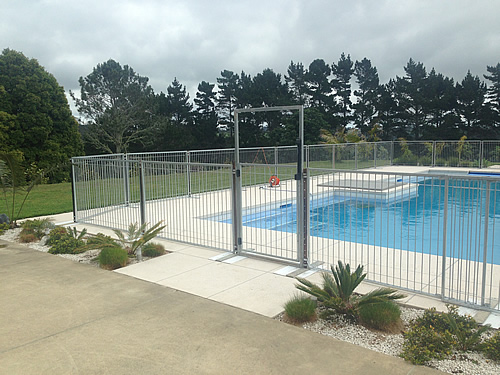 GHL Temp Fence is the preferred supplier of temporary pool fencing to several of the market leading pool companies, landscapers and pool fence installers.
We have several kilometres of temporary pool fencing and we are the largest temporary fencing specialist supplying the Auckland area. We also have available a self-closing pool gates for convenience so your swimming pool can be enjoyed safely. Our temporary pool fence conforms to the New Zealand Swimming Pools ACT 1987– Swimming Pool Safety – Safety Barriers for Swimming Pools.
Keep your kids and the public safe by erecting a safety perimeter around your swimming pool. Ensure you are fully compliant with all the various regulations and building permits by erecting a temporary pool fence around your swimming pool during the construction or refurbishment of your swimming pool, spa pool or existing swimming pool fence.
Our GHLTempFence swimming pool temp fence has been designed so it is simple to install and dismantle, whilst being very solid and secure.
We also provide Temporary Fencing solutions with our sturdy, durable, OSH / Worksafe compliant Temporary Fence to ensure a full Compliance work site with Systems for -
Residential Temporary Fencing, Commercial Temporary Fencing, Infrastructure & Civil Temporary Fencing, Event Fencing and Crowd Control.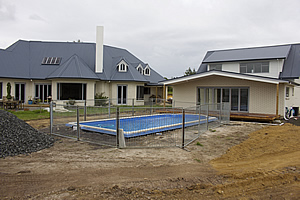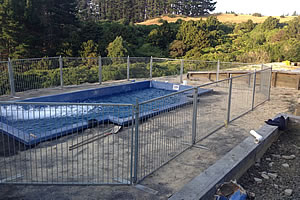 Contact us for a quote or phone now on 0800 42 68 12 or 0800TempFence (0800 836 733)

We are an NZ pool fencing hire business servicing from Mercer to Mangawhai including Auckland, Franklin, Counties, Waitakere, Hibiscus Coast, Eastern Suburbs Franklin, Manukau, East Auckland, West Auckland, Auckland CBD, North Shore, and Rodney District.