Easier. Faster. Safer. GHL Temp Fence add new innovations to the range
New Zealand's largest temporary fencing sales and hire company, GHL today announced three new temporary fencing products added to their hire range. These innovative products help meet the new health and safety standards for sites whilst giving easy access to workers and equipment on the site.
1. Temporary Gate Wheel Kits – The GHL gate wheel has been designed so the wheel kit easily fits onto the panel frame. This new design ensures the regulation height of the fence off the ground is maintained. Traditionally, gate wheels were simply a wheel fitted under the panel which lifted it too high off the ground to meet compliance.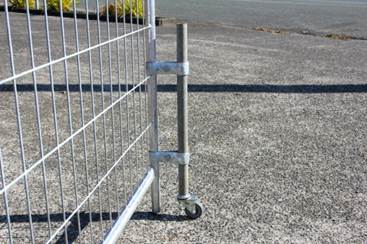 2. Gate Keepers – GHL developed their gate keeper to prevent children from gaining access to the site and to keep the gates securely closed when the site is vacant and after hours. This gate keeper replaces the lock and chains that were previously used, which were not always practical when multiple people required access to the site.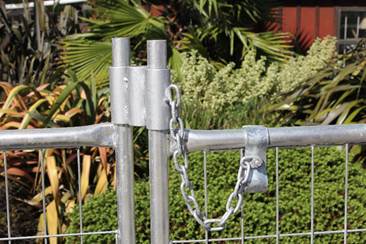 3. Pedestrian Gates – This purpose built pedestrian gate incorporates concrete feet to add stability to the gate and fence panels. In the past, a temporary fence half panel was a makeshift pedestrian gate but a concrete foot could not be used on this half panel.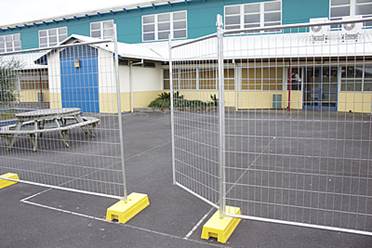 Being compliant with health and safety standards around access points of a temporary fence has been a difficult task but with GHL's exclusive new products, they have now been able to meet these standards, at the same time as maintaining the stability of the fence.
GHL have always been innovators in the temporary fencing industry, designing the temporary fence bracketing system and gate hinges. General Manger, Craig Goudie, said that health and safety standards are difficult to meet especially around access points that jeopardise the stability of the fence.
'From the outside temporary fencing looks a pretty simple business model, you just need some panels, clamps and feet and anyone can do it. This is not true with the importance of temporary fencing meeting the new health and safety standards.'
Over 13 years ago, GHL Goudie Holdings Ltd, commenced as a specialist scaffolding plank hire business. Three years later they expanded their product range to temporary fencing, crowd control barriers and temporary pool fences for hire in the greater Auckland area and for sale throughout New Zealand.
GHL continues to commit to their industry leading service, providing safety compliant temporary fencing solutions and scaffolding planks – on time, every time!
Still need some help deciding whether to buy or hire your temporary fencing? GHL can provide quotes for both temporary fence hire and sales, so you can make an informed, cost-effective decision. Call us now on 0800TempFence or visit www.GHLTempFence.co.nz
Click here for more information on Temp Fence Hire
Click here for more information on Temp Fence Sales