NZ Plank Hire - A Division of GHL
Hiring Planks to the Scaffolding and Building Industry for 20+ Years
Checked, Tested, Maintained, OSH and WorkSafe Compliant
Our Auckland scaffolding plank hire division of GHL "NZ Plank Hire" is based in St Johns, Auckland & commits to excellence. Teamed with our vast industry experience in scaffolding plank hire and our On Time, Every Time guarantee, we can help your job or site be more efficient with rapid delivery Auckland wide. We have been working with the Auckland scaffolding market, construction companies, builders, bricklayers and DIY markets for over 15 years.
All our Wooden Scaffolding Planks are NZ manufactured and are guaranteed to be fully compliant to all NZ standards, we have in stock scaffold planks in various lengths from 1.5m - 3.0m Long ready for immediate delivery.
With thousands of scaffolding planks and every scaffold plank checked, tested and maintained after every job to meet scaffolding best practices, OSH and Worksafe compliant – you, your workers and your worksites safety is vital to NZ Plank Hire.
So don't take the risk of robbing Scaffolding Planks from your scaffolding and making them unsafe.
Ph the NZ Plank Hire Team now! 0800 752 654
Scaffolding Planks Delivered Auckland Wide
From day 1 we've recognised that when our clients need planks they need them and quickly. We pride ourselves on delivery within 24 hr's Auckland wide and our Plank Hire Truck can carry up to 200 Planks.
Scaffolding Plank Hire Prices
NZ Scaffolding Plank Hire provides short or long term rental options at competitive hire rates.
Quantity
0-2 Weeks
(0-13 days)
2-4 Weeks
(14-27 days)
4-6 Weeks
(28-41 days)
6 Weeks +
(42 days +)
10-24
$5.00 per plank per week
$4.00 per plank per week
$3.00 per plank per week
$2.00 per plank per week
25-49
$4.00 per plank per week
$3.00 per plank per week
$2.00 per plank per week
$1.50 per plank per week
50-99
$3.00 per plank per week
$2.00 per plank per week
$1.50 per plank per week
$1.00 per plank per week
100 plus
$2.00 per plank per week
$1.50 per plank per week
$1.00 per plank per week
P.O.A
Subject to a minimum charge including delivery / pick up of $130.00 + G.S.T.
All Prices quoted are Weekly Rates excluding G.S.T. & Valid as at 01 April 2022
Damaged or Lost Planks will be charged @ replacement cost
Transportation: Delivery $40.00 + G.S.T / Pick Up $40.00 + G.S.T
Contact NZ Plank Hire today for a free quote or give us a call on 0800 Plank Hire (0800 752 654)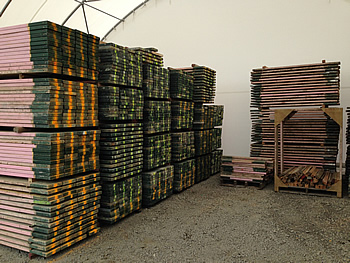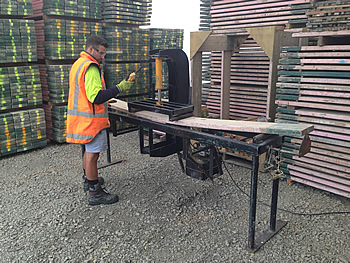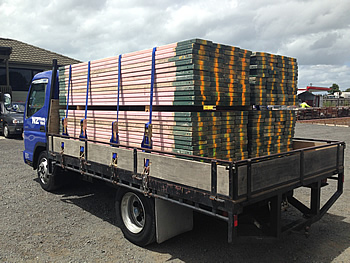 Our scaffolding planks are New Zealand through and through!
NZ Plank Hire is part of the GHL Group – A division of Coventry Group (NZ) Ltd and our laminated wooden scaffolding planks are manufactured in New Zealand by a fully licensed laminated scaffold plank manufacturer. Each plank is made up of seven Radiata pine laminations without finger joints or scarf joints to ensure strength. They have radiused edges and ends to reduce deterioriation from the elements and use. They also have a bandsaw finish, two screws at each end to control end splitting.
From just one phone call, your scaffolding planks with be delivered onsite for any short or long term hire options at very competitive rates.
As an Auckland scaffolding plank hire business, GHL predominately services from Mercer to Mangawhai including Auckland, Franklin, Counties, South Auckland, Waitakere, Hibiscus Coast, Manukau, East Auckland, West Auckland, Auckland CBD, North Shore, and Rodney District. However, depending on your requirements, GHL can also assist from Hamilton to Whangarei – call us now to discuss.
NZ Plank Hire – Working with the Construction & Building Industry for over 15 + years
Taking Care of Safety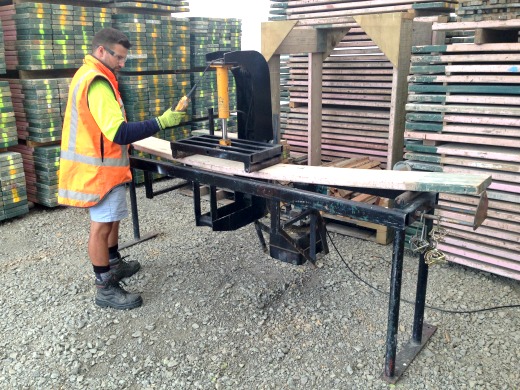 At NZ Plank Hire, we take safety very seriously and we regularly inspect and strength test our scaffolding planks. Planks are visually inspected each time a scaffolding plank is handled and we also test our scaffolding planks regularly following our in-house checklist to ensure complete compliance with WorkSafe standards.
Our number one rule is 'If in Doubt, "Write it Off"' so you can rely on NZ Plank Hire for safety.
For more information, read our recent blog posts:
Is your plank hire provider compliant?
Best Practice Guide for 'General Maintenance of Planks'
Visit www.NZPlankHire.co.nz or give us a call on 0800 752 654
---
GHL is also the number 1 temporary fencing company in Auckland
Find out more about our Temp Fence Hire and Temp Fence Sales
Contact us for a quote or phone now on 0800 42 68 12 or 0800TempFence 0800 836 733