Is the cheapest Temporary Fencing for Hire or Sale necessarily the best?
How to tell the temp fence cowboys from the real McCoy!
Within the temporary fencing industry, there are a lot of 'cowboys', selling and hiring inferior fencing at unsustainable pricing.

What does a temp fence cowboy look like?
They have a flashy website that is full of promises.
They may be small independents, as well as large corporate businesses with big budgets to spend on marketing and sales promises.
They usually sell their temporary fencing and related products at a price much lower than the rest of the market/industry.
What's the problem with the cowboys?
The product does not provide the protection and security, that make NZ worksites safety compliant. You may be risking the safety of your staff, your contractors and visitors and the security of your materials and equipment stored on site.
We know how tempting it is to hire temp fence or buy temp fence based on price alone, when you have tight budgets to meet but there is so much more involved and GHL will show you why.
GHL Temp Fence is the real McCoy. We are a 100% privately owned NZ family business that started hiring and selling temporary fencing in 2006.
As one of the largest Auckland temporary fencing companies, we're here for the long-term and place importance on building successful partnerships with our customers. This relationship is built on –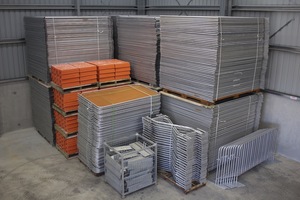 Competitively Priced Quality Products & Services

GHL temp fence hire or sales are all fit for purpose.
We are innovative and design new temp fence products and accessories to make your life easier and safer on-site.

Solid internal infrastructure, processes & training to provide value added service

Our promise, to deliver 'On Time, Every Time' requires a strong Can do Team, the trucks & kilometres of temporary fencing on hand to deliver when you need it.

Long term commitment and thinking

We're here for the long haul, we're only any good to our customers if we're around for years to come.

Strong H & S Policy & Standards that are part of our culture

For 10 years we have had documented processes in place and taken Health & Safety seriously to become one of the few temp fence companies with externally audited processes.
Can a cowboy temp fence supplier do all this?
Next time you're comparing the cost of temporary fencing - don't forget to ask a few more questions to ensure you're getting a balance of 'price, quality & service' all delivered "On Time, Every Time"
Call us now on 0800TempFence or visit www.GHLTempFence.co.nz to see how we can help you with the success of your next event.
Click here for more information on Temp Fence Hire
Click here for more information on Temp Fence Sales