Accessories
Temporary Fencing Accessories
Temporary Fencing Hire : "On Time, Every Time"
GHL TempFence accessories provide complete temporary fencing solutions. When combined with our sturdy, durable, OSH / Worksafe compliant temporary fencing we can ensure a fully compliant work site for:
Infrastructure & Civil Temporary Fencing, Residential Temporary Fencing, Event Fencing, Crowd Control Barriers and Temporary Pool Fencing.
Contact us for a quote or phone now on 0800 42 68 12 or 0800TempFence (0800 836 733)

We are an Auckland Temporary Fencing business predominately servicing from Mercer to Mangawhai including Auckland, Franklin, Counties, Waitakere, Hibiscus Coast, Eastern Suburbs Franklin, Manukau, East Auckland, West Auckland, Auckland CBD, North Shore, and Rodney District. Depending on your requirements we can also assist from Hamilton to Whangarei when required.
Vehicle Access Gate
Vehicle access gate can be created almost anywhere along the fence line of a Temporary Fence. These are braced individually with up to a 96kg load at each end of the Temporary Fence. Specialty vehicle gate hinges are use to allow the gates in the Temporary Fence to freely swing open and closed. Our team is very experienced in working in with customers to make it work. Gates can be made from two panels giving 4.8m opening.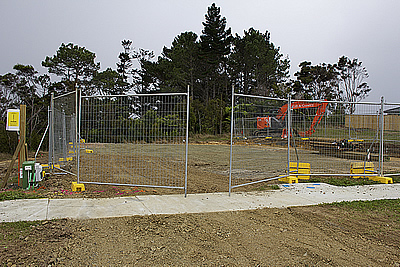 Pedestrian Gate
Talk to the team about installing pedestrian gates in a Temporary Fence to help with access to specific areas of the site. Very useful between parking and the site office sperated by Temporary Fencing. Very versatile and can be placed almost anywhere along one of our temporary fences.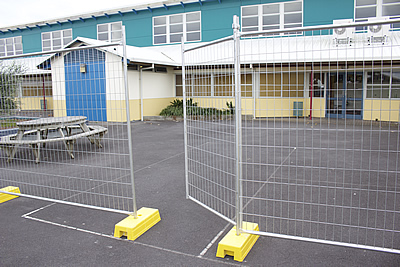 Substantial Bracing
Essential to ensure the stability, safety and strength of a Temporary Fence with shade cloth. Traditional Temporary Fence Braces can be Installed with up to 3 x Temporary Fence Feet with a combined weight of 96kg's or our specialty Concrete Blocks can be strapped to the Temporary Fence.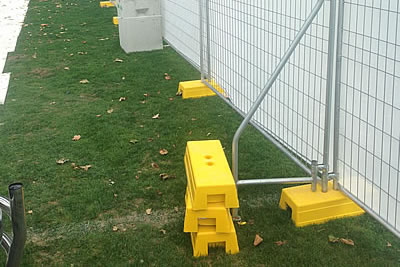 Shade Cloth
We can supply & Install shade cloth for your temporary fencing to provide greater privacy and security for your site. It also assists with dust protection allowing for a safer work site.
Options available are...
90% Temporary Fence Shade Cloth for Block Out and Dust protection

70% Temporary Fence Shade Cloth for subtle screening and Dust protection
30% Temporary Fence Shade Cloth for Scaffold / Debris Net and Dust protection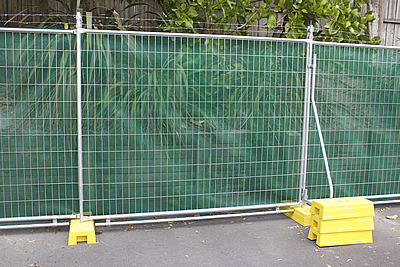 Barbed Wire
For extra security, GHL TempFence have the capability of installing barbwire along the tops of the temporary fence. Ideal for establishing site compounds with secure Temporary Fencing in areas of risk helping to protect equipment.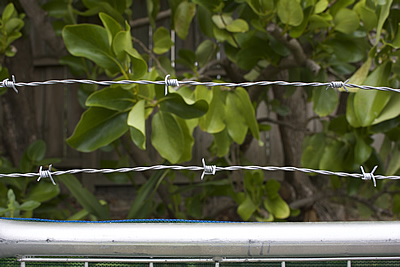 Height Reduction Bars / Dog Bars:
Traditional Temporary Fencing has a gap under the Temporary Fence of 150mm which can in instances need to be reduced. Height reduction bars, dog bars are used to reduce the gap under a Temporary Fence to less than 100mm to create an enclosure that ensures that small children or animals are safe and secure.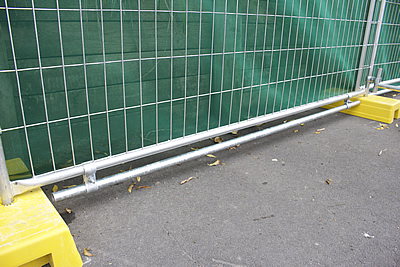 Gate Hinges
Temporary Fence Hinges are a specifically designed product for use with both Full Temporary Fence Panels to create vehicle access or our smaller 1.2m wide Pedestrian Gates. "Gone are the days of just leaving a Clamp Loose to act as a hinge"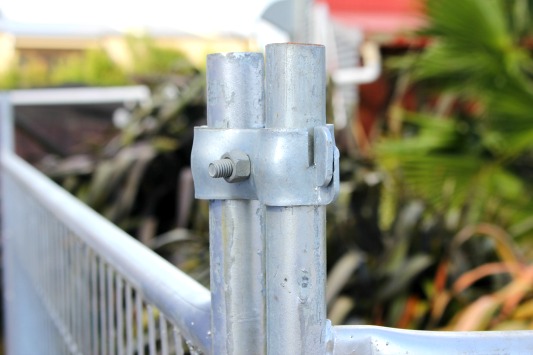 Gate Wheel Kit


Our Gate Wheels have been specifically designed to be attached to the a Temporary Fence Panel that's being used for access and keep the height the same as the Temporary Fencing.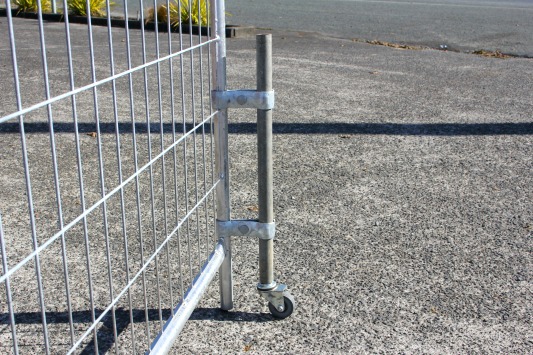 Gate Keepers
The latest GHL Temp Fence Team product.
Whilst in some circumstances a Chain and Lock may be preferred (which we can also supply) more often than not a method of keeping them closed and making them child proof is what's required.
After years of trying all kinds of methods to secure gate from Chains to Saddles we've found the solution - Gate Keepers!
N.B. The use of something to secure gates is also important to the stability of a Temporary Fence as a Gate swinging open in winds can also cause Temporary Fencing to fall over.
Acoustic Barriers
Noise Control is now becoming part of many Resource Consents for Construction Sites & Events.
Our Temporary Fence with Acoustic Barriers is the solution to reducing the amount of noise escaping the site, by preventing sound from reflecting off the Barriers.
We use Echo Barriers which are one of the few on the market that has full certification and they're not a copy or cheap Knock off.