GHL goes beyond the boundaries of your temp fence – this is what makes us different!
GHL provide innovative temporary fencing to improve safety and efficiency onsite - a temp fence solution that is easy to use and flexible, to ensure safety isn't compromised throughout the shifting requirements of the project.
A temp fence "isn't just a bunch of panels thrown around a site to form a perimeter". It's a fence that's functional, practical and protects workers, traffic and pedestrians. GHL goes beyond the boundaries of temporary fencing; we provide the expertise and experience to save you money and gain efficiencies on your work site.
GHL Temp Fence customers see many benefits of using our innovative solutions -
We develop flexible fencing solutions to secure worksites and ensure it works efficiently whilst maintaining compliance.
Standard on every temp fence installation, they ensure the safety and stability of the fence in all unforeseen weather conditions
Lifts the standard of presentation of construction zones and hides the clutter of construction sites.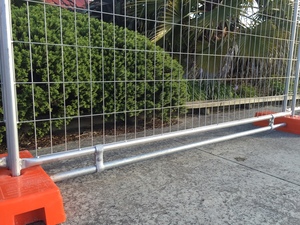 Lockable, hinged pedestrian and vehicle gates
Safer and quicker entry and exit for trucks and workers and helps to control site access.
New specialist accessories and equipment to compliment traditional temporary fencing
They include -
Compliant temporary pool fencing
1.25-metre-high construction barriers for isolating specific hazards
Advertising barriers
Acoustic panels to reduce noise pollution
Gate hinges, gate keepers, and height reduction bars for added security
Substantial bracing systems for shade cloth installations
These are the details that make a real difference to the safety and efficiency of your site when considering a GHL temporary fence. Call us now on 0800 42 6812 to talk temporary fence hire or sale solutions.
Click here for more information on Temp Fence Hire
Click here for more information on Temp Fence Sales