Closing the gap on temporary fencing - with height reduction bars
The gap between the ground and the temporary fence is caused by the Concrete Filled Temporary Fence feet which are used to add strength and stability to the fence. In order to have a temp fence remain standing after knocks from trucks, materials, workers, storms and heavy winds, we use 32 kg concrete filled feet. These concrete feet, raise the level of the fence off the ground.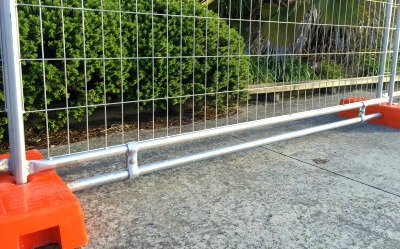 From our experience, temp fencing that only uses steel feet to support them so they sit flush on the ground will not be standing after harsh weather and most worksite conditions. The fence can become a safety hazard itself instead of preventing accidents and security around the site.
For some worksites to be compliant, they need to reduce this gap to stop children and animals from entering a dangerous worksite. To solve this problem, GHL have designed height reduction bars that reduce the gap under the temporary fence to less than 100mm. This bar allows you to achieve the desired result without compromising the stability of the fence.
Height reduction bars, also known as dog bars, simply attach to the bottom of each temp fence panel, using a 4mm hot dip galvanised clamp and tightened screw. They can be included in your temporary fence hire or are available for sale.
Another temp fence problem solved by GHL!
Still need some help deciding whether to buy or hire your temporary fencing? GHL can provide quotes for both temporary fence hire and sales, so you can make an informed, cost-effective decision. Call us now on 0800TempFence or visit www.GHLTempFence.co.nz
Click here for more information on Temp Fence Hire
Click here for more information on Temp Fence Sales